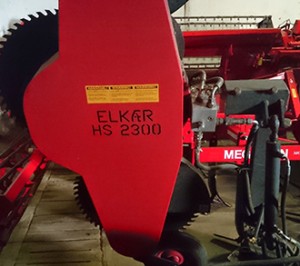 It is no secret that a trimmed windbreak is equal to a larger crop of Christmas trees. As a rule of thumb, a well-functioning windbreak has an effective shelter zone of about 20 times the height of the fence behind and approx. 5 times the height of the fence in front.
When you slow down the wind with your windbreak, you ensure a much better climate for your soil. It is especially important that your windbreak is grown to be very dense at the bottom. You get a well-functioning windbreak by trimming it regularly. That way, your windbreak "bushes", and becomes stronger.
If you make sure to trim your windbreak every year, the branches that has been trimmed off, will be of such size that they do not interfere with the other field work, and they can, as a rule, remain in the field.
Our windbreak trimmer is of the Elkær 2300 brand. Its branch saws are constructed with staggered blades. This means that the branches do not get stuck during work and this makes it possible to run at a high average working speed.
It is particularly effective for pruning trees and branches in heavy windbreaks with branches up to 25 cm in diameter.